Rumor has it that Anna has purchased her wedding dress...Apparently the groom is not allowed to see said dress, so I can only imagine what it looks like. Or, I can sneak a peak on her camera and find a picture! It's her "dream" dress: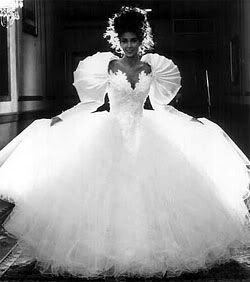 In all seriousness, I haven't seen the dress and don't plan to break into her gmail account to peak.
On a different topic, as the groom, I'm feeling a bit left out. I know this is the "bride's day" and all, but give a guy a break. Have no idea what I'm talking about? No worries, because I am currently compiling evidence (quotes) from recent emails written by both the MOB (Jean Hall) and MOG (Anne Quarles). This evidence will show the obvious "lovefest" for Anna, with very little mention of myself. Look forward to that sometime this week.